Learn
Working with the Lean for Clinical Redesign Coordinating Center involves a facilitated multi-step, multi-month process which engages individuals at all levels in the organization. The image below provides an overview of a facilitated Lean cycle. (Click image to enlarge.)
The attached PDF defines the required deliverables.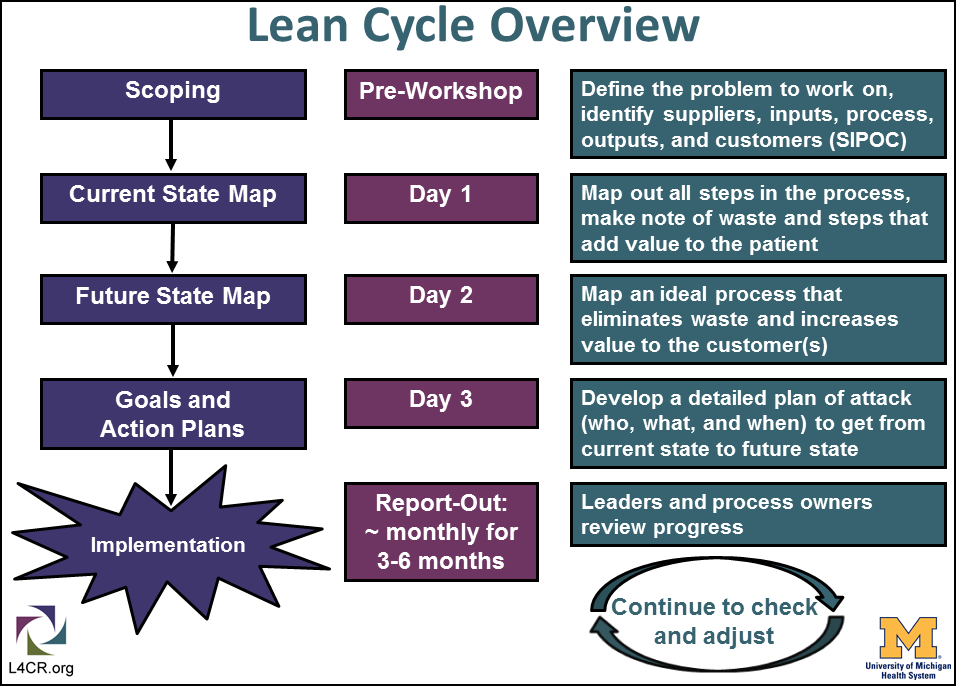 Why choose Lean for Clinical Redesign?
Lean Thinking helps to identify the challenges that hinder effective and efficient delivery of health services. Lean Thinking provides teams of people doing the work the tools to break these challenges down into smaller, manageable parts to map a tailored course of action toward improvement. The result is a better use of resources, less rework, and improved health outcomes for patients.
Learn about Lean Thinking and Clinical Redesign
Learning how to think Lean and build the capacity for change are key qualities of teams that are successful in overcoming challenges and improving their clinic processes.
Articles

Lean in Healthcare
Patient-Centered Medical Home

Videos

Lean Thinking
Patient-Centered Medical Home (PCMH)
Patient Response to PCMH

Websites
More Resources