Medical Advantage Group Lean Training Program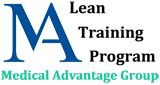 MAG has developed a unique approach to Lean that promotes participation and accomplishments. MAG's program delivers training in half-day sessions that are held locally with up to five practices in a workshop. In addition, MAG hosts three large-group sessions attended by all workshop participants to learn and share best practices. MAG's program fosters peer-to-peer learning. Lean practices increase:
Quality measures
PCMH capabilities
Efficiency in practice processes
Culture and communication in the practice
Patient satisfaction
Physician and staff satisfaction
The MAG Lean Training Program builds regional areas of Lean expertise across Michigan. After the first year of participation, a practice becomes an Alumni Club member and continues doing Lean cycles to improve. Click to learn about MAG's previous Lean successes.
---
Current Lean Practices
---
Resources
---
MAG Alumni Club: Archive of the 2010-11 Learning Collaborative